The Adventist University of the Philippines College of Medicine (AUPCOM) is the first and only Adventist medical school in the Philippines and the Asia-Pacific region established in 2015. It is only the sixth of seven Adventist medical schools globally, the oldest of which is the Loma Linda University School of Medicine in Loma Linda, California, USA.  AUP College of Medicine is the only medical school in the Philippines and Southeast Asia which includes in its medical curriculum courses in Lifestyle Medicine, Religion, and Whole Person Care, because of its main thrust to produce physician-missionaries for Christ.
The medical school accepts baccalaureate allied health degree holders, to begin at the first-year level, with an NMAT score 60 and above, an above average GPA, an outstanding Christian character, and with good English communication skills. Freshmen Medicine students are welcomed in a White Coat Ceremony at the beginning of the year, with the donning of the white coat signifying the purity of the medical profession, and the giving out of the Holy Bible – the most important book above all books, and the Ministry of Healing. These medical students will be trained to become Five-Star Plus Physicians, namely, as mandated by CHED:  Clinician, Teacher, Researcher, Manager, and Social Mobilizer, and additionally the unique AUPCOM Plus – to become a Physician Missionary.
At the fourth-year level, selected outstanding medical students are given the opportunity to go on clinical clerkship rotation for six weeks at our sister institution – the Loma Linda University School of Medicine – Medical Center in Loma Linda, California.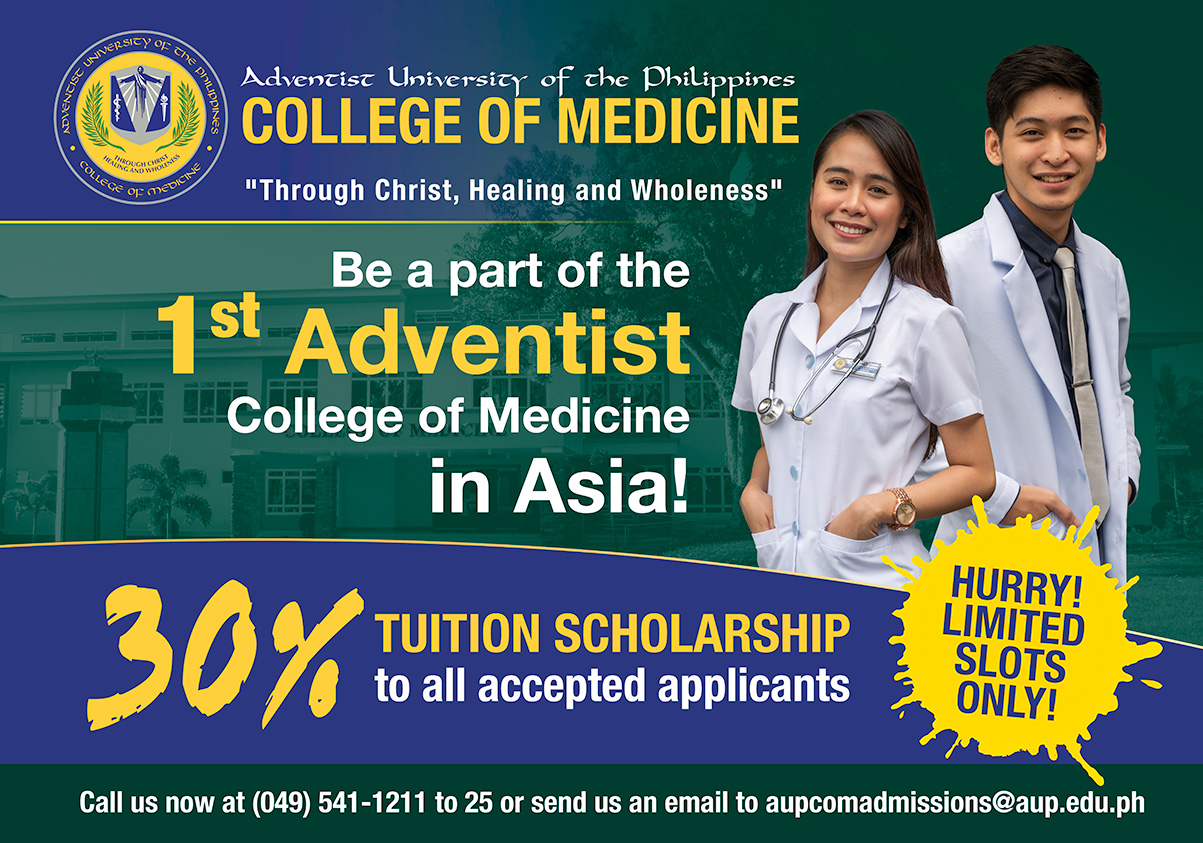 Program Educational Objective:
To produce knowledgeable, skillful, and Christ-like primary health clinicians to serve as physicians in any Seventh-day Adventist, or in private or government health institutions and hospitals, as well as in the clinic-setting or in the community, both locally and internationally
To produce academically-driven physicians who will pursue post-graduate studies, and specialty training, to become proficient in their chosen fields of expertise, and serve as teachers and educators in any Seventh-day Adventist, or in private or government medical colleges and universities, both locally and internationally
To produce critical and analytical thinkers who will pursue scientifically-based studies and become physician-researchers to serve in Seventh-day Adventist institutions of higher learning, as well as private and government institutions, for the promotion of health, based on sound scientific evidence, both locally and internationally
To produce effective physician-managers with sterling leadership and management skills and good interpersonal relations with people to serve Seventh-day Adventist churches and institutions, as well as other private and government agencies as Health or Medical Director, Chief of Hospital, President or any leadership position, both locally and internationally
To produce a socially engaged physician-mobilizer, who will advocate and practice social accountability, promote continuing community and public health information, and mobilize the community not only in the Seventh-day Adventist circles, but also in the local community, and in the world for improved health and living conditions
To produce a committed, compassionate, converted physician-missionary who is modeled and molded after the Master Physician Jesus Christ Himself, to serve along with fellow Seventh-day Adventist physicians particularly the spiritually unreached and perishing, to give whole person care, bringing about medical and spiritual healing and wholeness, because every heart is a mission field.
Overall Summary: