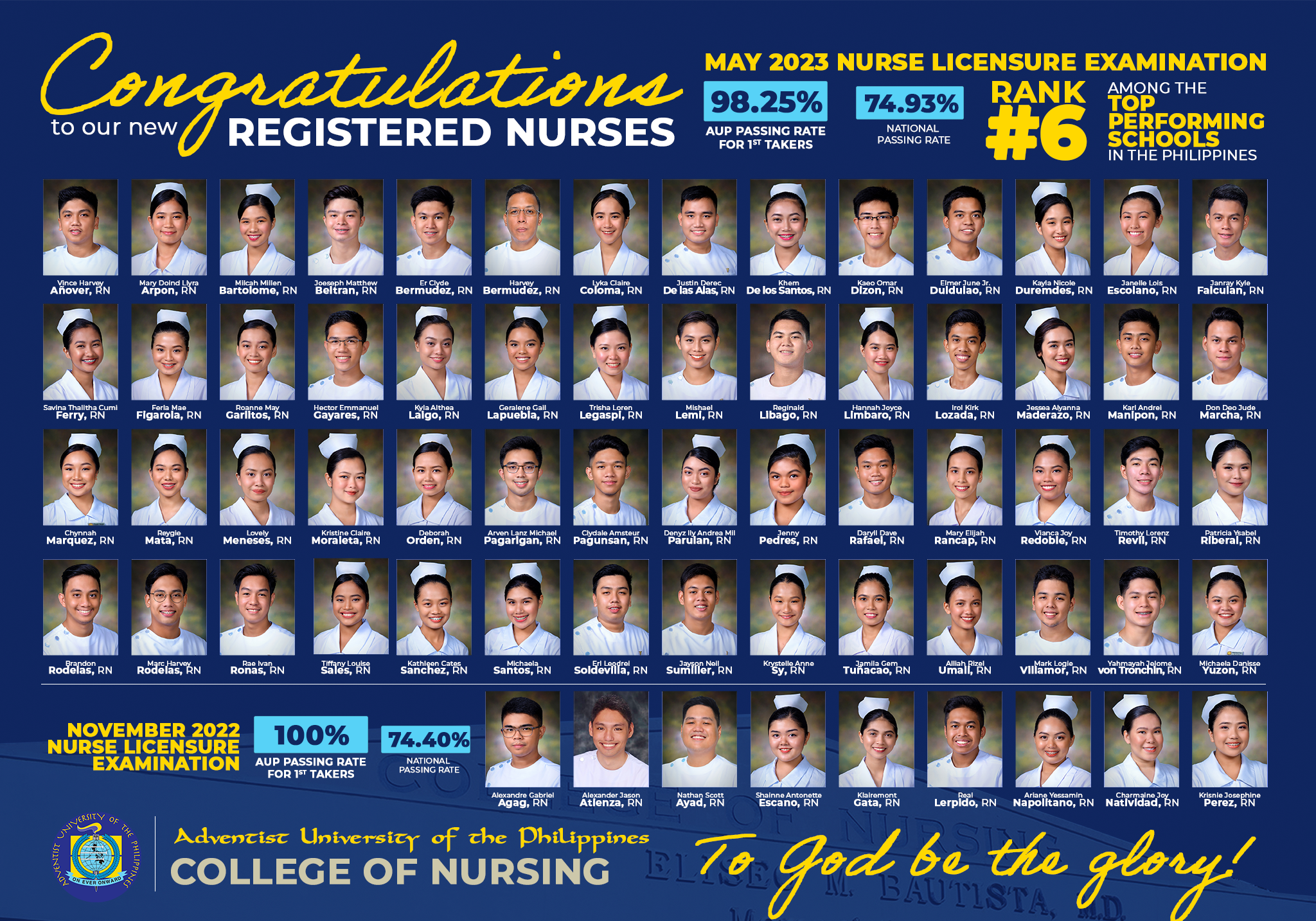 The Adventist University of the Philippines-College of Nursing placed 6th among the top performing schools in the Philippines with a 97.01% overall performance against the 74.93% national passing rate during the May 2023 Nurse Licensure Examination released on June 10, 2023.
Among the 67 takers, 65 passed which resulted in a 98.25% passing rate for first-time takers. In gratitude for this accomplishment, some of the newly registered nurses shared their testimonies how passing the exam impacted them. "It was God all along," Roanne May Garlitos remarked as she shared how God led her to nursing. She experienced anxiety attacks and feared the unknown but "God's plan took over." She also mentioned the support of her CON family and AUP from the beginning. She concluded her testimony with an encouragement to "dream with God."
Savina Thalitha Cumi Ferry shared how the road to success came with fear and uncertainty, but God revealed His plans to her. "All I can share is that God never fails me  and has always shown me the light, even in my darkest days. The God who helped me survive my college days is the same God who helped me pass the board exam," she testified.
Indeed, the journey brought changes the nurses' life. "We praise God for everything He has done for us," Harvey Bermudez expressed how grateful this milestone in his career brought him closer to God. He wished to continue to strengthen his spiritual journey and relationship with God "beyond the NLE and unto our mission fields in the nursing career."
Hector Emmanuel Gayares imparted two key points about the board exam: faith and perseverance. "Faith. because no amount of studying will ever prepare you for all the questions you will face. That's just how broad the exam is. Therefore, a faith that God will supply knowledge is important. Imagine 500 questions from the different areas of nursing practice. It is physically impossible to study for it all. Perseverance, because again faith without work is dead," he concluded.