New RMTs Score Another 100 % Passing Rate for AUP, Jacob in Top 5
Once again, a 100% Passing rate (36/36 takers) plus Jezriel James Maquinana Jacob achieving 91.50% to place 5th in the PRC Medical Technologists Licensure Examination of March 2023, give the AUP family all the reasons to Rejoice in the Lord. "Praise the Lord; To God be the Glory" is what Dr. Miriam Razon Estrada Dean of the College of Health (COH) expressed upon learning of the good news of the new Registered Medical Technologists (RMT).  Furthermore, the office of the Mayor of Silang, Cavite congratulated Jezriel  "for being a Topnotcher (top 5)…Saludo kami sa iyong husay at talino…people of Silang are very proud of your achievement." The announcement declared.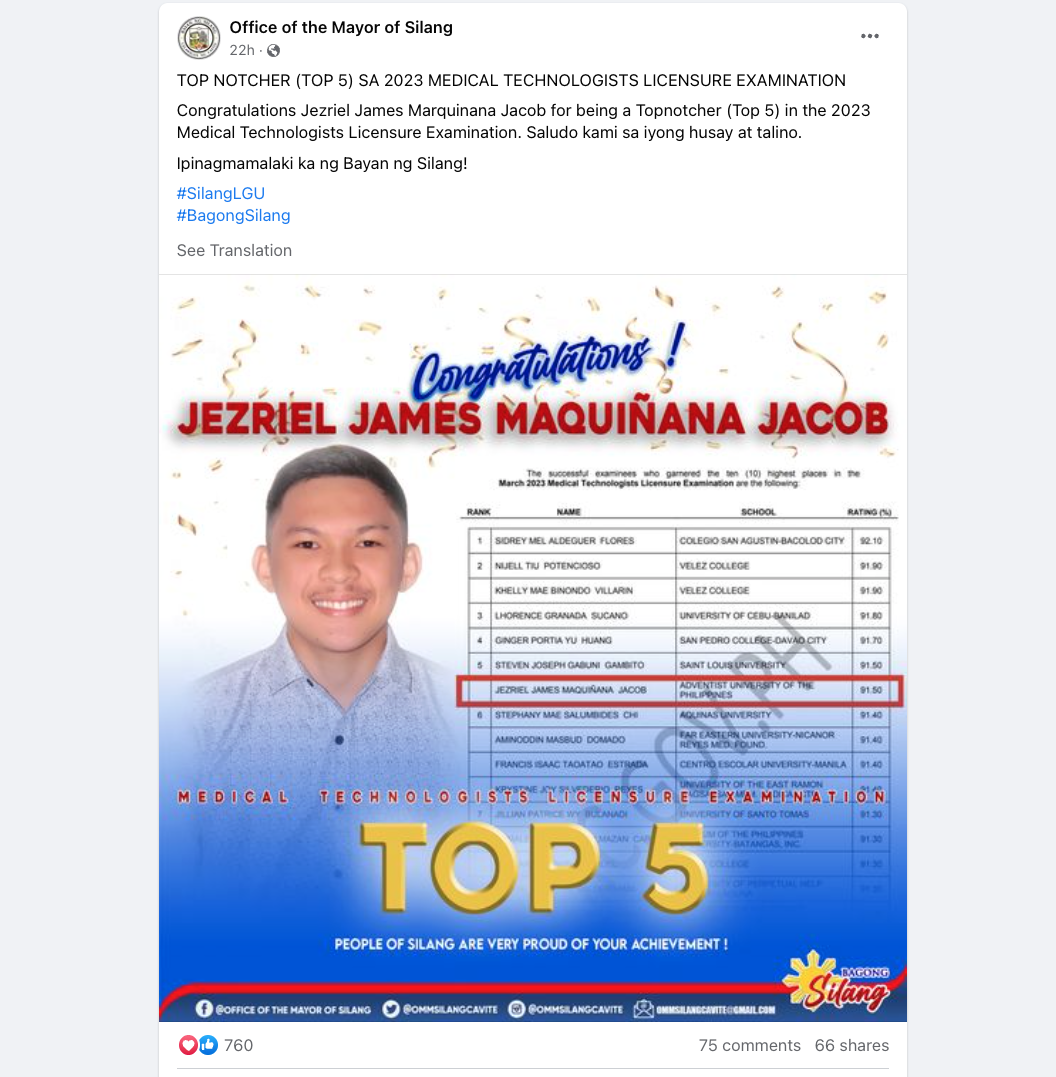 Praise God indeed for His sustaining grace to AUP that offered the first Medtech school in the Philippines and the program now called Bachelor of Medical Laboratory Science (BMLS). Since AUP moved to Silang it has continued its impressive performance in the Licensure Exams garnering a 100% Passing rate 30 times from 1985 to 2023 including a consistent 100 % rating streak from 2012 to 2019 in the two licensure exams each year. Furthermore, BMLS records show a total of 43 topnotchers, and three of them first placers since 1985; their names Gladys April Catibog in 2013, Eufe Tantia Jr in 2002, and Vernon Mazo in 1996 will stand the test of time. Also celebrating are the mentors- faculty and staff of the MLS department:  Cometa, Medjieh; Cortez, Gershon Marc; Defiño, Mary Cyrin Victoria; Fumera, Karen Faith; Gatus, Kurt -who said, "faith can move mountains and such a milestone is to bring honor and glory to God"; Lagonera, Sheila Arly; Mendoza, Ferdinand; Mendoza, Ma. Kristine; Raymundo, Steffi; Rodriguez, Princess Red Rose, and Sales, Ma. Estrella with Department Chair- Macayan, Yanna Yvonne who expressed, "May God bless you my dear colleagues,  RMTs for the Lord…" The list of new RMTs follows.