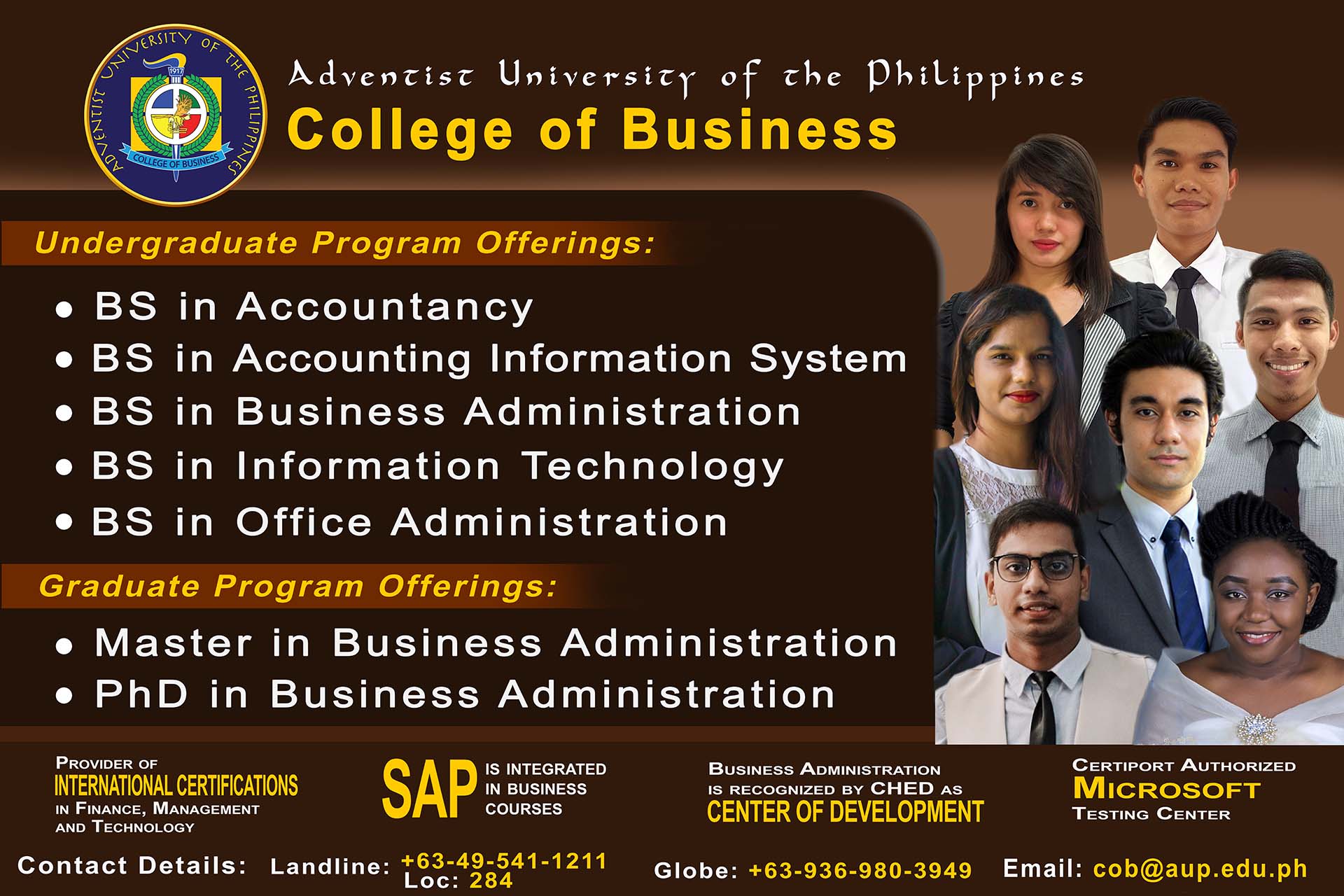 The College of Business prepares students to become principled, competitive, and ingenious business professionals in order to drive economic development and improve the quality of human life.
COB serves as home to future entrepreneurs, business leaders, financial analysts, auditors, tax advisors, management consultants, IT experts, system administrators and analysts, office specialists and administrators in manufacturing, service, food, health, education, and agriculture industries in government or private companies and controlled corporations.  It is an advocate of innovation, linkages, and continuous learning.  COB has strong affiliation with universities in the ASEAN and reputable industry partners to provide a wide array of learning opportunities for students.
The Business Administration program is recognized as a Center of Development by the Commission on Higher Education (CHED).  Further, CHED awarded AUP as a Delivering Higher Education Institution (DHEI) of the Master's in Business Administration and Doctor of Philosophy in Business Administration programs for the Scholarships for Instructors' Knowledge Advancement Program (SIKAP).  Meanwhile, the Accountancy program is a Continuing Professional Development (CPD) provider duly accredited by the Professional Regulation Commission (PRC).
AUP College of Business has the following program offerings:
Undergraduate Programs
Bachelor of Science in Accountancy – Level IV Accredited (highest level)
Bachelor of Science in Accounting Information System – Level III Accredited
Bachelor of Science in Business Administration – Level IV Accredited (highest level)
Bachelor of Science in Information Technology – Level I Accredited
Associate in Computer Technology
Bachelor of Science in Office Administration – Level III Accredited
Graduate Programs
Master in Business Administration – Level IV Accredited (highest level)
Doctor in Philosophy in Business Administration – Level III Accredited
Straight Programs
Bachelor of Science in Accounting Information System to Master in Business Administration
Bachelor of Science in Business Administration to Master in Business Administration
Dual Programs
Master in Business Administration and Master in Public Health
Master in Business Administration and Master in Nursing
Master in Business Administration and Master of Arts in Psychology